Post by Shep on May 22, 2017 15:24:46 GMT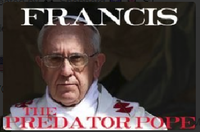 Pope Francis Meets Four British Imams, Urges Need for 'Listening' to One Another
4/5/17 - Pope Francis met with four British imams in the Vatican Wednesday morning, just two weeks after an Islamic radical drove his car through pedestrians on a crowded London bridge, killing three.
An official press release from the Vatican said that the Pope had received in audience "a delegation of Muslim leaders from Great Britain," which included the president of Majlis e ulama Europe, the chairman of the British Muslim Forum, a co-chair of the Christian-Muslim Forum and the director general of the Scottish Ahlul Bayt Society.
Francis meeting with Muslim leaders from Great Britain represents "part of his effort to give prominence and a platform to Muslim leaders who renounce using religion to justify violence." In his brief address to the Muslim leaders, however, Pope Francis spoke exclusively of the importance of listening to others, avoiding the question of Islam and religious violence altogether.
In an interview Tuesday, one of the four imams, the vice-president of the Christian Muslim Forum, Ibrahim Mogra, called Pope Francis "a brave man" for his willingness to defend Muslims.
"He is the only one who has had the courage to say that Islam is a religion of peace," Mogra said. "He is a true Christian, because he looks at the human person apart from religious membership. Every religion is against violence," Mogra said, "and teaches peaceful living as citizens who respect the law."
Mogra also said that people in the West are guilty of a "double standard" in dealing with predominantly Muslim nations. "In Egypt, the United States allowed the army to take power notwithstanding the democratically elected government of the Muslim Brotherhood," he said.
Cardinal Vincent Nichols, the Roman Catholic archbishop of Westminster who accompanied the imams to see the Pope, said that the Muslim community is slowly gaining the confidence to speak out and condemn Islamic extremism. "That is the voice that has to be heard to counter the rather more undifferentiating, unappreciative and even hostile voices that view Islamic people in Britain as somehow alien and unwelcome," he said.
Last August, Pope Francis told journalists aboard the papal plane: "If I speak of Islamic violence, I must speak of Catholic violence… And no, not all Muslims are violent, not all Catholics are violent. It is like a fruit salad; there's everything."
Pope Francis will travel to Cairo and will visit the Al Azhar University, Sunni Islam's most prestigious academic institution.
www.breitbart.com/london/2017/04/05/pope-francis-meets-four-british-imams-urges-need-listening
Vatican throne of Satan
Pope praises satan
cj.myfreeforum.org/about2434.html