Post by Shep on May 31, 2017 21:18:07 GMT
`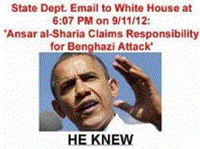 Benghazi again!
Over the past two months, while the FBI and intelligence community should have been busy investigating Hillary Clinton's crimes and Barack Obama's shadow government, they decided to instead investigate a fake news story about a connection between our President Trump and the Russians.
President Trump gave Director Comey all of the chances he could. The time has come to replace him. Trump, knowing what's best and what the American people want, wasted no time and found Comey's replacement before he asked for his resignation.
As of April 1st, the FBI will no longer answer to a director but to the head of the House Investigative Committee, Trey Gowdy. Mr. Gowdy will take over the day to day operations when his term is up in January 2019. The reason for the unorthodox chain of command is that a person can't, by law, hold two jobs in the federal government and Mr. Gowdy is still needed to head the house committee he runs that does so much good work.
Gowdy has assured the president that he will do everything in his power to end the Russia witch hunt except where the Clintons and Podesta are concerned and to get back to what is really important, which is shutting down Obama's Deep State and getting to the bottom of
Benghazi
.
readconservatives.news/2017/03/28/president-trump-comeys-replacement
13 HOURS * What happened in BENGAZI
Benghazi Under Attack, September 11, 2012
Credit to Judicial Watch
Hillary Clinton sent U.S. Marines AWAY from Bengazi - AFTER Stevens begged for MORE security - BEFORE the attack. Secretary of State Hellary Clinton decided NOT to staff Benghazi with U.S. Marines. Clinton prohibited Marines from providing security at any American diplomatic installation in Libya.
HILLARY CLINTON MADE DECISION NOT TO POST MARINES AT BENGHAZI
The blame for the murder of Ambassador Chris Stevens and 3 other Americans including Navy SEALs at Benghazi, Libya is on Hillary Clinton and the State Department:
The State Department just allowed our guys to get killed. If you approve no bullets in guns for the mission security guards and an outhouse for a mission, you're inviting it. There wasn't even bullet proof glass at the American mission at Benghazi, the security guards inside the mission didn't have bullets. They were private security. The rules of engagement were ridiculous.
cj.myfreeforum.org/about5608.html
13 Hours at Benghazi Documentary
foxnewsinsider.com/2014/09/05/benghazi-bombshell-security-team-told-stand-down-top-cia-officer
13 Hours at Benghazi
BOOK - Documentary 2 Years After Attack by 3 men who were there.
THERE WAS a STAND DOWN ORDER - FOR 30 MINUTES.
The Americans would not be dead but for that!
What unfolded on the fateful night of Sept. 11, 2012 at the U.S. consulate and a nearby CIA annex?
LIBYA, North Africa
mehaf.freeforums.net/thread/211
WILL WE EVER SEE JUSTICE for the 4 Americans who died that day
- needlessly - because of 0bama, Hellary, John Brennan?