Post by Shep on Aug 30, 2017 13:08:39 GMT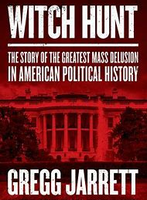 Witch Hunt
The Greatest Mass Delusion in American Political History
2019 By Gregg Jarrett - DO NOT buy from Amazon!
Dont promote or fund child #Trafficking
Obama Ordered SpyGate Witch Hunt
Oct 14, 2019
- What #ObamaGate scandals are in the thick #IGreport on FISA abuse report to be released Oct. 18? Obama's DNI James Clapper told CNN that Obama directed them to assemble all the reporting about the witch hunt (Russia meddling in the 2016 election).
Gregg Jarrett new book, Witch Hunt: Greatest Mass Delusion in American Political History. Key participants in the witch hunt admitted that they never had any credible evidence to launch the Trump-Russia investigation. Obama himself ordered the start of the witch hunt with assist from knowingly lying media. #Treason
Mueller was hired on a lie, no evidence to justify their probe. Collusion was all based on a a phony dossier commissioned by Demonrats. Clapper said Xident Obama ordered #SpyGate against Donald Trump.
0bama approved Hunter Biden's job on the board of a Ukrainian gas company and a China company.
thegreggjarrett.com/james-clapper-obama-ordered-us-to-start-the-witch-hunt
Trump's war: His Battle for America
2017 Michael Savage - The wall, taxes, tariffs, deportations, Obamacare, guns, military strength, schools, abortion, religion. Michael Savage examines the initial appointments and history of Donald Trump and offers his insights. Savage wants to save America's borders, language and culture from the onslaught that is turning Europe into a nightmare.
President Donald Trump must now take the fight to Washington. He has an even bigger challenge in delivering on the promises he made to American voters. He faces relentless opposition from special interests in both parties who stand to lose trillions if Trump's America First policies become the law of the land.
July 2017 CON-gress and SINate veto proofed Trump firing the swamp people. Thats when Trump went into war mode. Strategy. He knows deception is a weapon, so hes pretending to be weakened and uninformed, while he is actually destroying the opposition. The media and swamp to think hes contained, but he gets news on twitter and his family brings him info.
He is still going after the globalists on trade.
Bannon and Gorka leaving the whitehouse was part of Trumps war, strategy. Now they are at Breitbart News in FULL WAR mode.
FoxTV is in need of competition and hopefully we will soon have a new channel.